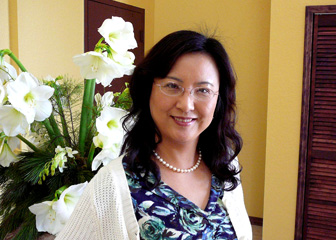 Lihua Zhang, General Dentist, D.M.D
Henry M. Goldman School of Dental Medicine, Boston University, D.M.D.
Dentist at Beijing Xiehe Hospital, China
Graduated from Beijing Medical University, School of Stomatology Education
Member of the ADA (American Dental Association)
Member of MDS (Mass Dental Society)
Dr. Lihua Zhang is a General Dentist and Graduated in 1994 from Henry M. Goldman School of Dental Medicine. Dr. Zhang is an active member of the ADA (American Dental Association) and MDS (Mass Dental Society). She has received two years of Orthodontic Dental Continuing Education Training and does Orthodontics for children.
Dr. Zhang is also certified in Lumineers (dental restorations used to create beautiful smiles) and Invisalign (invisible braces) as well as Bicon Dental Implants (dental implant is a tiny titanium screw inserted into the jaw bone to secure dentures or crowns). Dr. Zhang is married to husband Tao and together they have three children. On her free time she likes traveling, skiing and ballroom dancing.
Dental Treatments
Cleaning, Filling and Tooth-Colored Restorations
Preventive Periodontics & Periodontal Disease
Wisdom Teeth Extraction
Teeth Whitening
Root Canal Therapy
Dentures
Braces and Invisalign
Crowns and Bridges
Dental Implants
DNA Appliance
Uniqueness
Digital X-ray
Intro-Camera
Strict Disinfection Procedures
Safety Rules
Convenient Location
Easy to Park
Accept various insurance and patients without insurance
Appointments on Saturdays
Senior citizen and student discounts
Beacon Dental Center
Address: 1842 Beacon St. 2nd Floor, Suite 206
Brookline, MA 02445
Green Line C, Englewood Ave Station,across from Chinese Christrian Church

Phone: 617-734-5868,617-734-8869 (Mandarin, Cantonese and English)
Website:www.beacondentalctr.com
Hours: Mon.,Tue.,Thur.,Fri.: 9am- 5pm
Saturday: 9am- 4pm
About Us
At our Brookline dentist office, our gentle, friendly, caring staff are dedicated to giving you the best treatment possible. We focus on quality care at an affordable price. We listen to your needs and explain your options clearly.
We are committed to gentle preventive care and making each patient visit a pleasant experience. We want to help you achieve a beautiful smile and a lifetime of healthy teeth and gums. It's easier than you think if you are willing to take it one step at a time.
No matter what condition your teeth are in, right now is the best time to begin taking care of them. You only need to come in. An exam, x-rays and pictures of your mouth can tell us everything we need to know. This will help us come up with a step by step plan so you can see how you can get your teeth and gums into the best shape and health possible.