Xinyan Lucy Liu, DMD, PhD
We strive to provide high quality dental care for all members of your family. Every effort is made to provide you a relaxing and comfortable dental visit. We emphasize on patients' safety and infection control is our top priority. Our office is HIPPA and OSHA compliant and all clinical staffs are CPR certified. We got a full score of 100 from Delta Dental Insurance site inspection.

Happy and healthy smiles are achieved with latest technologies by experienced, compassionate and caring dental professionals. We use latest technologies such as electronic patient record system, digital X-rays, intra-oral camera,quite/precise electric handpieces, Kavo implant system, Dentsply endodontic system for root canal treatment, KOR deep bleach system for low sensitivity teeth whitening, and SixMonthSmile cosmetic orthodontics for straightening teeth.
New Patients Specials
Exam/X-rays/Cleaning $95
$20 Gift card for patient with insurance
In office Teeth Whitening $360
Senior 10% off / Student 20% off
Free consultation for Six Month Smiles orthodontic treatment ($3575)
Free consultation for implant including crown ($3000)
Services
Exam/digital X-rays/Teeth Cleaning
Emergency dental care
Cosmetic fillings
Crowns/Bridges/Veneers
Root Canal Treatments
Extractions
Dental Implants
Partial and full dentures
Teeth whitening (KoR certified tetracycline teeth whitening)
Cosmetic Short Term Orthodontics
Beacon Family Dental Brookline
Address: 1691 Beacon St, Suite 104
Brookline, MA 02445
Phone: 617-738-6188
E-mail: info@beaconfamilydental.com
Hours: Mon, Tue, Thur & Sun: 9am-6pm
Languages spoken: English Chinese
WeChat ID: BeaconFamilyDental
Website: www.beaconfamilydental.com
Yes, we're taking new patients! Request an appointment with our Brookline dental office
We accept most private insurances including:
-- Delta Dental Premier and PPO;
-- BlueCross Blue Shield;
-- Metlife;
-- Aetna;
-- Guardian;
-- Cigna
-- United Health Care
Xinyan Lucy Liu, DMD, PhD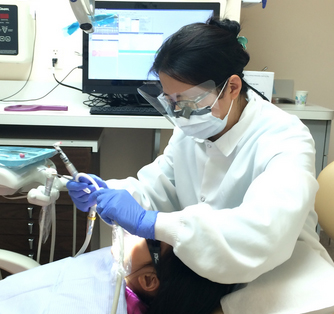 Degrees
1995 B.D.S --- Peking University
2005 Ph.D. --- Boston University
2009 D.M.D. --- Tufts University
Testimonies
Great service great smile!

Dr. Liu is extremely thorough, kind, caring, does her job very well. I highly recommend her and I wouldn't hesitate to go to her again. And her assistant is very cute and pleasant, and has a great smile :-)! so if you need dental work done you would be very wise to see Dr. Liu. She gets an A + from me and I don't give A's to just anyone!!! ;-)
M.F.
Quincy, MA