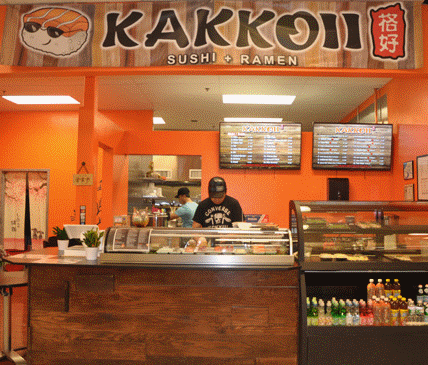 About Us
We are located in the food court of 99 Asian Supermarket. As our name showed, Kakkoii Sushi and Ramen focuses on Sushi and Ramen, while other items such as seaweed salad, edemame, takoyaki and rice bowls are also available. But we are really all about sushi and ramen here. Our unique skills and freshest materials will ensure you a high quality and flavorful dining experiences. Roll on into our restaurant for a great time and great food.

Menu

中文>>

http://www.kakkoiisushiramen.com/
---
Address: 60 Broadway
Malden, MA 02148
Phone: (781) 605-2439
Estimate delivery time is 30 to 60 minutes.
Delivery fee is $2 in 2 miles range
We do not deliver beyond 2 miles.

---
Store Hours

Open 7 Days: 11:00 AM - 09:00 PM
---
Testimonials

Fresh and tasty sushi. Ramen was absolutely delicious. However, the original price for the ramen soup bowl alone was $12 something, even though they had lowered the price down to $10, but it's still expensive for such a small bowl which is not enough to fill up my belly. I need 2 bowls of that.
- Norina N, MA, MA 3/29/2015
I was happy to see that this place delivers since I am not always in the mood to allow the world to see me (No I am not a vampire...lol). They serve ramen, which I have never had.
- Theresa J., Malden, MA 3/6/2015